This week kicks off a new feature — Five for Friday — where I'll talk about five of my favorite things.
My first Five for Friday is dedicated to my baby brother and his new fiancée who will eventually begin working on their wedding registry. (And I'm really going to try and be a good big sister and not give my opinion/input unless asked; but no one can stop me from posting all of my infinite wisdom on my blog [cue evil cackling]). This is a great list for couples who will be setting up their first kitchen, or as graduation gifts for college or high school students living on their own for the first time.

1. A good chefs knife. I have had my knife (Zwilling J.A. Henckels Twin Cuisine 8-Inch Chef's Knife) for at least six years. My knife is my baby. Even M knows that the first thing that gets washed when we're cleaning up is Hank. (Yes, I named my knife.) Spend some money here (or ask others to) — quality knives will last a long, long time. Pick something that feels comfortable in your hand. Don't feel like you have to get a set of knives unless you want to. You may like the chef knife from one brand and the paring knife from another. As long as you don't care that they don't match, no one else will either.

2. A non-stick skillet. This is another spot where you'll want to think of the purchase as an investment. Quality pans last a long, long time (heck, even not-so-high-quality pans last a long time if you treat them right). A big skillet — such as an All-Clad Nonstick 12-Inch Fry Pan — can handle just about anything on the stove top. Omelets, pancakes, stir fry, chicken parmesan; whatever you want. This is the first skillet I usually reach for when I'm cooking (this is my second most used pan). Go to the store and actually lift up the pans — don't just pick them out online. You'd be surprised the difference in weight and handle comfort.

3. A bacteria-resistant cutting board. Bacteria is gross. Food poisoning is more gross (I speak from experience here). Look for something that resists bacteria, holds up in the dishwasher and won't dull your new knives. We love Prep Series Cutting Boards by Epicurean, 2 Piece
, and they've held up great.
4. A dutch oven. I know you are probably thinking this one doesn't qualify as a kitchen basic, but I completely disagree. I've used mine for everything from making pasta sauce, to frying chicken, to baking bread. It can go from stove top-to-oven-to-table without a second thought. It's even cute enough to serve guests in! Splurge and go for a Le Creuset (how fun are those colors!!!!) or if you want something more economical, I recommend the Lodge Dutch Oven. Mine has held up great and it's about six or seven years old now.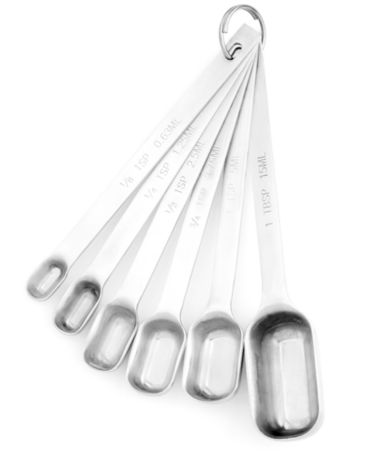 5. Measuring cups and spoons. Can I tell you I went through FIVE sets of measuring tools before I found one I actually liked? The first set we registered for made the dog bark every time we took them out of the drawer (I guess they sounded like dog tags). The second set, the handle fell off one of the measuring cups the second time we used it. The labels started rubbing off on the third set with a few days. Set four? Rusted almost immediately. The fifth set, in our case, was the charm. We went for cups and spoons that didn't match because they each had the qualities I was looking for. Our measuring cups are from the Martha Stewart Collection. I love the fact that the collapse, so they don't take up a ton of drawer space. Plus they are dishwasher safe, which set four apparently was not. Our measuring spoons are also from the Martha Stewart Collection, but are metal instead of plastic. These are the perfect size to fit in a spice jar and the measurement doesn't rub off. Another win.
What are your recommendations for kitchen basics?
*Affiliate links are included. Your price doesn't change, but I do receive compensation when you purchase through the links. Your purchases keep this blog going, so spend away!