Happy (almost) Mother's Day to all the mom's, mom's-to-be and fellow puppy moms out there. In honor of Mom, I'm dedicating this week's Five for Friday to my very own fantastic Mom, who may or may not read my blog. Here are five of my favorite Mom-made dishes:
1. Mom's Margarita Pasta. That's not even the real name of the dish (we refer to it as "your" pasta in my mom's house) but it's the best name I could come up with for the rest of the world. Like I said when I posted the recipe, it's a total comfort food for me and I always make it when M goes out of town (who doesn't want to think of their mom when they are lonely?). It's a delicious combination of tomatoes, olives, cheese and basil, with some pasta thrown in for good measure. YUM.
2. Thanksgiving Stuffing. Hands down my most favorite stuffing in the world. My mom sneaks in the turkey giblets, which I fully embrace. There is also mushrooms (yay!), apples, walnuts, cranberries, and celery. It makes me sad that I can't share the recipe with you but I will once the holidays come along.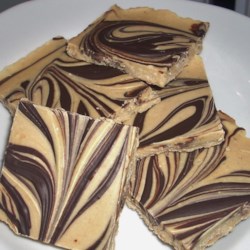 3. Tiger Butter. Despite an incident where I once burned off my face with boiling water making this (I'm fine now, I promise), this is my go-to for holiday treats. What is it with the holiday's and Mom's cooking? It's peanut butter and chocolate swirled together. What's not to like? We do have a bit of a debate going in our house as to whether Tiger Butter or Buckeye's are better. M and I will likely remain in our Mom's corners on that one!
4. Manicotti. The fact that I do not have a single picture of this in my arsenal is embarrassing. Especially because I made it for M and my first Christmas dinner together. Apparently, that wasn't important enough to take a picture of? Le sigh. I digress. This is my Mom's Mom's recipe (Nanny). It's one of the few recipes I remember learning from scratch, and pretty much by memory, and I remember helping my brother make it when he was younger. We make it almost completely from scratch with the exception of the cheeses. More comfort food. This is probably the first thing I'll make for (or with) my new sister-in-law once she and my brother are married. We have to keep the family tradition alive. [Tear.]
5. My Mother-in-Law's Artichoke Squares. This is the first Mother's Day where I have two beautiful women to celebrate, so this final dish is dedicated to Ellen. I believe she made these on my first trip to "meet my boyfriend's parents" — I raved about them, and have requested them every visit since. Cheese and artichokes? Come on.