Memorial Day has come and gone which means Summer is in full swing! I can't wait! This could be M and my last Summer in DC which is both exciting and so, so sad at the same time. For this Five for Friday, I've decided to create my Summer bucket list. I figure crossing five things off the bucket list should be possible between now and Labor Day. Right?
1. Hike Great Falls. Eleven years and I still have not been to Great Falls. Crazy, right? This Summer, that's coming to an end. An early morning or late afternoon trip to walk the trails with the dog is my number one thing to do this Summer.
2. Outdoor Movies in Rosslyn. This year's theme is "work" movies and includes some of M and my favorite movies, including Horrible Bosses. If you're local, the schedule is here. I think packing up a picnic dinner (and maybe a to-go cup) and heading down the hill to watch an outdoor movie would be a great way to unwind at the end of the week.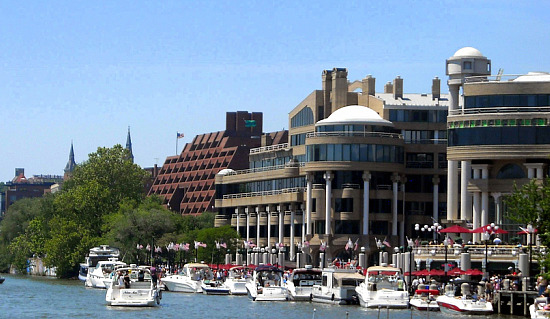 3. Drinks on the Georgetown Waterfront. I used to do this after work with my girlfriends regularly, but since I'm working from home full-time and most of my girlfriends have moved out of the city, this has fallen out of rotation. Sitting by the water, watching the boats and enjoying a frozen drink makes you feel like you are anywhere other than downtown DC. Maybe we'll make it part of a Staycation.
4. Rocklands Barbecue. This one probably isn't too far fetched since Rocklands is about a 3 minute drive from our house. What is it about Summer and barbecue that go together so well? Maybe I can convince M to play hookie and meet the pup and I for lunch one day. The brisket, mac and cheese and cucumber salad are calling my name.
5. Top of the Washington Monument. Since the DC Earthquake (so scary) the Monument has been closed for repairs. While I thought the scaffolding on the Monument looked beautiful at night, it's nice to have the real thing back in view. I'd love to make a trip to the top to take in the beauty of DC on a nice Summer day.
What's on your Summer bucket list?